Third Eye Headlamps™ + CALIBOCA Randy Noborikawa Artist Series TE14 Headlamp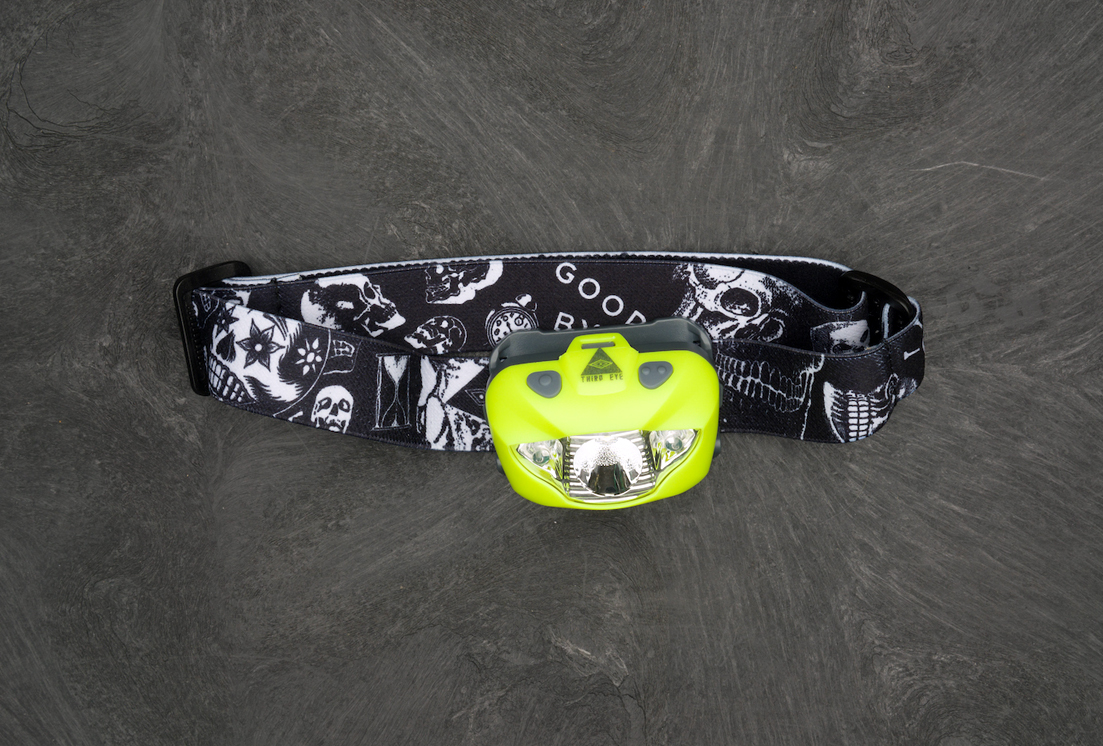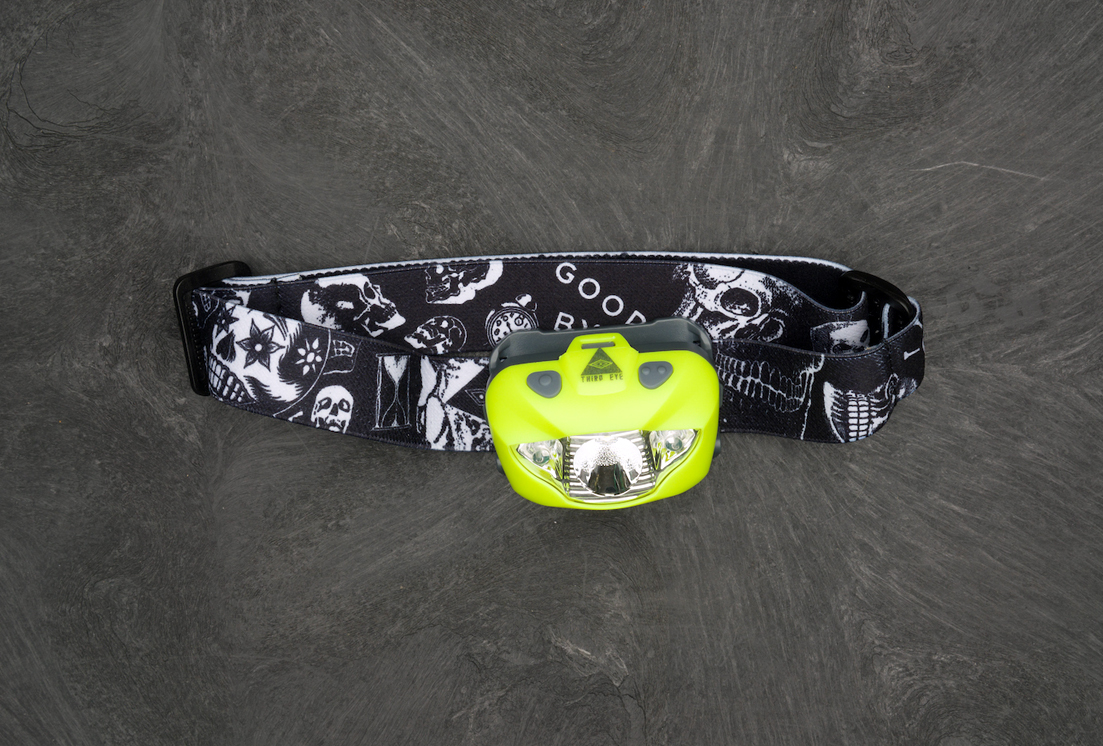 Third Eye Headlamps™ + CALIBOCA Randy Noborikawa Artist Series TE14 Headlamp
TE ARTIST SERIES: CALIBOCA (RANDY NOBORIKAWA)
Randy Noborikawa is a longtime friend and super-talented artist, surfer, mountain biker, and skateboarder who's work we've admired for a long time. It is our pleasure to introduce the TEH + CALIBOCA TE14 Headlamp.
Randy was Born in Southern California, graduated from the Academy of Art University in San Francisco, and currently lives and works in Costa Mesa, CA. His inspiration comes from traveling and nature, or what we like to call Outdoor Enlightenment, "Nature… helps to cleanse the mental palette, and nature never disappoints," he says.
His Artist Series Headlamp features his iconic "elsugarskull" designs for the headband and a custom Day-Glow fluorescent yellow TE14 Headlamp. Randy's "elsugarskull" style embodies his passion for Latin folk art and iconography translated through a modern filter.
Randy has worked with brands such as: Levis, Arbor, Quicksilver, Troy Lee Designs and many more. We are honored to add Third Eye Headlamps to that list!
MORE ABOUT RANDY CLICK HERE
ABOUT THE LAMP:
THIS IS OUR TE14 HEADLAMP. IT'S INSANELY BRIGHT WHEN YOU NEED IT, SUBTLE WHEN YOU DON'T AND ALWAYS LOOKS GOOD - NOT JUST IN THE DARK.
FEATURING OUR ARTIST DESIGNED TOTALLY AWESOME HEADBANDS™ SIX BRIGHTNESS SETTINGS, A HIGH POWERED AND EFFICIENT CREE XP-E WHITE LED AND RED LIGHT OPTIONS. THE TE14 IS IPX6 WATERPROOF WITH A RUBBER O-RING CLOSURE AND RUNS ON 3 EASY TO FIND AAA BATTERIES. TWO BUTTONS CYCLE THROUGH BRIGHTNESS SETTINGS SEAMLESSLY. AFTER 3 SECONDS JUST ONE PUSH WILL TURN YOUR LIGHT OFF.
RESPONSIBLE MANUFACTURING IS IMPORTANT TO US. OUR HEADLAMPS ARE MADE WITH 100% RECYCLABLE, NON-TOXIC PLASTIC AND ARE ROHS (RESTRICTION OF HAZARDOUS SUBSTANCES) APPROVED.
"TECHNICALLY ADVANCED GEAR DOESN'T HAVE TO LOOK 'TECHNICAL', IT CAN BE BEAUTIFUL TOO."
ADJUSTABLE ANGLE TILT LENS
Easily adjust where your light points to. No more neck aches!
FULLY SEALED BATTERY COMPARTMENT
Featuring a rubber o-ring closure and a waterproof rating of IPX6, the TE14 Headlamp will stay lit in the heaviest rainstorms.
SIMPLE TWO BUTTON OPERATION
One for white light settings and one for red light settings. Push them in sequence to cycle through settings - White Light: HIGH, MEDIUM, LOW and SOS Flashing. Red Light: HIGH and Flashing. If light is on for more than 3 seconds one push will turn light off. Simple, rugged construction.
TOTALLY AWESOME DESIGNS!
Our headlamps come in a selection of some of the coolest designs out there. Headbands are machine washable, replaceable, interchangeable and we always have new styles to check out.
TECHNICAL STUFF
Battery Type (not included): 3x 1.5v AAA

Bulb Type: CREE XP-E LED

Highly water resistant: IPX 6

Light Output: 168 Lumens

Weight (w/o batteries): 1.76oz. (50g)

WARNING: Do not look directly into the LED light.
POWERFUL - A Perfect Combo of 4 White and 2 Red Options - COOL WHITE LIGHT High/medium/low settings easily adjusts to your needs. High setting gives 168 lumens of light to 360 feet. Low setting conserves energy, perfect for close up work. SOS setting lets others know you need help - RED LIGHT preserves night vision, best for wildlife viewing and great for reading in bed. STROBE setting lets others know where you are - or that you wanna dance :)


MATERIALS - Responsible manufacturing is important to us. Our headlamps are made with 100% recyclable, non-toxic plastic and are ROHS (Restriction of Hazardous Substances) approved.


SMALL, LIGHTWEIGHT AND ADAPTABLE - comfortable to wear and easy to take along so you have bright light in any situation. Six light settings, a non-slip adjustable strap and a locking angle tilt give you precisely the light you want, when and where you want it.


WORRY FREE - ultra efficient Cree XP-E LED lights mean extended battery life so you can focus on your activity, not your gear. TESTED AND TRUSTED by experienced adventurers who demand top quality and reliability. Runs on three easy to find AAA batteries.


SECURITY - superior IPX6 waterproof rating means hands-free powerful lighting in all weather conditions. LIFE SAVING - emergency strobe and S.O.S. signal can make the difference.


USES - Whether you are an accomplished outdoors person, avid traveler, camper, cyclist, mechanic, need a lamp for emergency situations, walking the dog at night, overnight music festivals (our lamps have a flashing red and white feature for impromptu dance parties by the way...) or you are grilling in the backyard, Third Eye Headlamps has you covered- and you'll look good doing it!


HAVE FUN! - Get outside and let us light up the night for you - wherever you might be!


We Back Our Extraordinary Headlamp With a 100% Hassle-Free Money Back Guarantee - We know our Third Eye Headlamp delivers and we believe it's the only headlamp you'll ever need. It's been tested and trusted by some crazy adventurers who have used it to the extreme. If there is ever a malfunction with your Third Eye Headlamp or you are not satisfied we will replace it or refund your purchase, no questions asked. Simply register your new headlamp with us to activate its Lifetime Warranty!